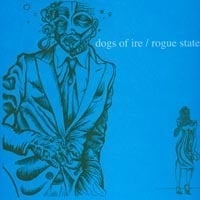 $

5.00 - On Sale
COMING BACK... SOON
This split is a double-benefit for Coalicion de Derechos Humanos and B' TSELEM.
DOGS OF IRE overthrow the senses and thrash the place with high energy and twisted noisy mayhem. Four hard hitting jams that are raw, dark and explosive. DOGS OF IRE end their side with a new version of "This Is Why Airplanes Crash Into Buildings." This band is amazing. For some strange reason, you can get into them if you are into hardcore, pop punk, or fucked up noisy stuff. ex Falling Sickness... great dudes, such an awesome band!!!
ROGUE STATE finishes you off with six brutally technical assaults. Off-timed and rhythmic, ROGUE STATE deliver a pummeling wall of sound comparable to no one. Noodly guitars, sing along parts, and tons of explosive melody. This is very reminiscent of some stuff that would be on NO IDEA RECORDS with a bit more bite and energy to it. sooo good!!!
Best record to be released last year, for sure!!! This is an urgent and exciting split to experience. It is a split release between ETHOSPINE NOISE and TZEDEK RECORDS