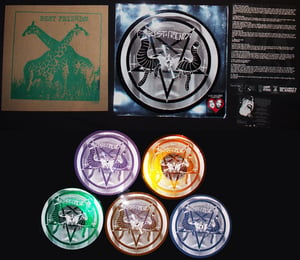 $

6.66 - On Sale
FEW COPIES REMAIN! GET IT NOW BEFORE ITS GONE FORRRRREEEEVVEERRR!!!!
only $6.66!!!!!!!!
Meet BEST FRIENDS: scott & greg! From Philly, by way of Detroit, BF have been creating their poppy duo fun jams since the first 2 PIECE FEST back in 2008 where they ended their set with an epic memorable huge crowd group hug! You may be used to seeing these 2 dudes playing insane chaotic music from their previous/current bands Enkephalin, Letters in Binary, Slam Wedgehouse, etc.. however, this band is all about the positivity in life. With songs about friendship, skateboarding, the environment, high fiving, optimism, and hugging your friends, BF have created the soundtrack to FUN. These 10 songs are the first songs written by the band, recorded just months before their epic long-awaited relocation to Philly. Think pop punk, post punk, singy, yellin, heavily distorted guitar and super fast hard hitting drums. Technical impressive playing yet still melodic and poppy riffage that just sticks in your head. If you see them live, it is way too hard not to throw your first in the air and party along with the fun and intense feeling that is BEST FRIENDS!
The packaging is the most satanic posi record of all time! Comes on a 1-sided LP with the B side silk screened. Packaging also includes a screened chip board cover and two inserts.
This record is DIY and it rules hard!!!!!!!
lmtd to 333 copies with 69 random colors thrown in the mix.
Simply a beautiful DIY release!
get it while it's still available... these will go quick!
update: MY COPIES OF COLOR VINYL ARE ALL SOLD OUT!!!
BLACK COPIES ARE THE ONLY ONES LEFT! they look sweeter anyways!
INTERNATIONAL ORDERS: PLEASE EMAIL ME (BEHAPPYRECORDING@GMAIL.COM)