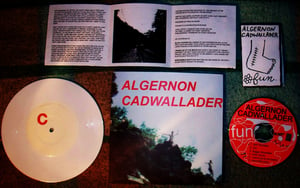 $

6.00
SOLD OUT!!!! a list of distros carrying this will be posted soon...
FUN = the looooong awaited EP follow up to their debut full length last year!
Over a year in the making, this EP finally sees it's release!! Three brand new sing-a-long poppy rockin jams on both white & clear vinyl!
Packaging also includes a professionally pressed CD with the "FUN" ep AS WELL AS three BONUS ADDITIONAL UNRELEASED tracks compiled & recorded specifically to make this release more and more FUN with more awesome songs for you.
*Also includes a lyric book & a super special Algernon Cadwallader "FUN" coloring book created by friend and artist Greg Labold.
RECAP... WHITE vinyl 7inch + 6 song CD + lyric book + coloring book = FUN!!!
This is a split release with PROTAGONIST MUSIC. They are carrying all of the CLEAR vinyl copies. If you want some of those, please check them out at http://protagonistmusic.bigcartel.com
****Order WHITE VINYL now exclusively from BE HAPPY RECORDS! They will go quick!!! so hurrrrrrrry!!